5 And A Beagle
"Life is what happens while you are busy making other plans." John Lennon
Sunday, September 18, 2005
The Felted Tote...Mary Poppins would be proud.
Here is the felted bag in all of its pre-felted glory.
It doesn't look any larger than any other bag I've made before it is felted. I'm ready to pop the pieces in their respective pillow cases, throw them into the washing machine and wait for the magic to begin. I'm thinking in 15 maybe 20 minutes, I'll have a nice little tote ready to block. After about 10 minutes, I open the lid, pull out the straps and check on their progress. Is it my imagination or are they longer than when they started? I pull out the flap. It doesn't look any bigger, but it sure doesn't look at all felted. I don't even bother to pull out the tote, I just close the lid and wait another 10 minutes.
Second check and I'm really starting to get concerned. Nothing looked like it was felting. I started searching for the label from the wool, but I couldn't find one. This was Lopi wool I'd bought over 20 years ago, with the intention of making a sweater for my husband. All I could find were balls of the yarn wound up, but no label. A little panic was beginning to set in. What if this was some of that 100% wool that is completely washable?
I drained the washer and refilled it with the hottest water I could. This tote was going through another session and it was going to get agitated
and
boiled.
Half an hour later, I threw in the towel. The hot water seemed to do the trick - somewhat. The pieces seemed to be smaller and the fibre had tightened up a little. The one unfortunate side effect was that I now had something that shed so much crap into the washer, you'd think I'd thrown the dog in the machine.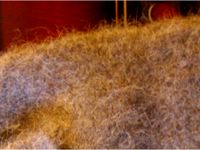 There was so much fuzz floating in the wash, filling up the pillow cases and clumped onto the tote, I could have used it to mold together a small pet.
Here - the finished product...
A bag that even
this woman
would be proud to own. It could easily carry all of her prized possessions. Remember...the hat stand, the wall mirror, the plant and the lamp? But I don't think practical Mary would appreciate that her magical bag would leave so much fuzz on her perfectly pressed clothes so as to look like she'd just gotten up from a "lie down" on the dog's bed.
|