5 And A Beagle
"Life is what happens while you are busy making other plans." John Lennon
Friday, September 30, 2005
Recipe of the Month - September
Tuesday, September 27, 2005
Self Portrait Tuesday
Sunday, September 25, 2005
A Weekend with Sammy the Barking Seal
For the last three days I have felt like this little fellow whom I affectionately refer to as Sammy the Barking Seal.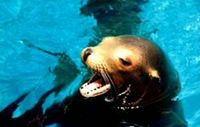 I've had a cough and a sore throat and I sound like a barking seal. Or actually, sometimes I sound like
this guy
.
As a result, I haven't done too much this weekend. Mostly laying about in the evenings, hoping someone will take pity on me and make me some tea and honey.
This is the test bag for backtack that was made up last week.
As mentioned, it needs interfacing on the top part to allow it to stand nicely. If anyone is interested in having this bag, please leave a comment or e-mail me at canadianedelweiss
at
yahoo
dot
ca. I'll be opening it up to put in some fusible interfacing on the back of the top trim and once it's stitched up again, it'll go to the name drawn on Sept 30th. The handles are a pair of knitting needles, but for ease of shipping, I'm afraid it will have to go sans needles, but it will have a little fibre treat inside instead.
Here are the fabrics that I've picked out to use on my backtack partner's bag, as well as a few 'take out boxes'.
More pictures as I progress.
I've also started on a quick shrug for #4 with ladder yarn. I thought this would be a really quick knit but it's taking a little longer than expected. That darn ladder yarn can be tricky at times. I went shopping with dear #4 the other day and her taste in clothes far and away exceeds my budget. I saw a couple of cute bolero sweaters that were priced close to $100 (yikes). I said I could knit one for less if she was game - she agreed so first comes the shrug while I hunt for a nice pattern for a bolero. Does anyone have any suggestions for a something in a lace weight yarn?
Thursday, September 22, 2005
Knitting Bag - Gotta use your imagination
Tuesday, September 20, 2005
Backtack Ideas
Sunday, September 18, 2005
The Felted Tote...Mary Poppins would be proud.
Tuesday, September 13, 2005
Self Portrait Tuesday
Thursday, September 08, 2005
Totes, scarves and Needle Rolls
Monday, September 05, 2005
So Long, Summer Holidays
Friday, September 02, 2005
Does this mean we become ... 4 and A Beagle?