5 And A Beagle
"Life is what happens while you are busy making other plans." John Lennon
Sunday, July 31, 2005
Recipe of the Month
If you live in the northern hemisphere, have a vegetable garden and in that garden grow zucchini, then you'll know why this month's recipe is for Zucchini Loaf. They multiply faster than rabbits.
Blueberry Zucchini Loaf
4 eggs
1 c. sugar
1/2 tsp vanilla extract
1 c. vegetable oil
2 c. grated (unpeeled) zucchini
3 c. flour
1-1/2 tsp baking powder
1 tsp baking soda
1 tsp salt
1 tsp cinnamon
1 c. blueberries
Beat eggs, sugar and vanilla for 2 minutes. Gradually add oil and beat for another 2 minutes. Stir in grated zucchini.
Combine flour, baking powder, baking soda, salt and cinnamon in a large bowl. Pour in zucchini mixture and stir until just moistened.
Pour into greased loaf pan. Bake in 375 oven for 1 hour.
Friday, July 29, 2005
Summer Squared
For those of you familiar with
Kerstin's site
, you'll know that tragedy struck her family when her brother John was killed in a car accident.
Annie
is asking people to knit a square to be put together for a blanket for Kerstin's brother John's wife and/or for a charity in John's name. If you would like to make a square, the details are
linked
from Annie's site. Here's my contribution for the blanket project.
I've also dragged the sewing machine back out. Here's a stack of material from two (maybe 3) decades worth of stash.
I'm making a bunch of reversible gift bags as well as some reversible CD pouches.
The end of the CD swap is fast approaching and I've got my son putting the discs together while I sew up some pouches. Lots of squares being made right now - okay, some of them are rectangles. Poor Shapely has been put on a temporary hold.
To the 'crew' at
Life's a Stitch
-
gute Reise
Tuesday, July 26, 2005
Random Tuesday
I've decided to change, or should I say expand on the Tuesday (or Late Monday night posts). Rather than keep up a pace of one unusual street sign pic per week, I thought I'd go for a plain old unusual picture. Not necessarily a street sign, but anything random. So today, a shot of the side of a building a few miles from where I work.
A mannequin on a ladder. The poor guy's out there 24/7 and never seems to get that final letter painted.
Monday, July 25, 2005
A Weekend on the Gulf Islands
Bright and early Saturday morning, #5 and I headed off to the ferry terminal to make our way to the
Saltspring Island Fibre Festival
. We met up with
Justine
from Adventures in Asia or as she is now known, Adventures in Asian Withdrawal. I was a little concerned when we didn't see her in the small walk on crowd on the Victoria/Saltspring Ferry, but she came on with her Mom, sister and friend in their car. And they kindly offered to squeeze in me and #5 for the ride to the farm. Justine gave us the sweetest beagle bookmark and notepad, she is the nicest person and it was great to hear about her experiences travelling and working in Asia.
In between taking pictures of some really tiny knitting
and
some medium sized sheep,
my camera went on the blink so I couldn't take a picture of us with Justine. I'll have to steal a copy from her blog.
As for the Fibre Festival, I think the local Maplewood Farm Sheep Fair was just as quaint and interesting and it had the added benefit of being less than a mile from our home. However, being on Saltspring and Mayne Islands is a pretty nice way to spend a couple of days. Not to mention the opportunity to meet a fellow blogger. Best of luck to you Justine as you head off back east and thank you again for a fun afternoon.
Here are some pictures of the rest of the weekend.
#5 with her purchase of yarn to make a multi coloured scarf
What could be better than making 'smores over the fire pit with some friends?
Here comes our ride home from Mayne Island.
And just to show you how windy it can get at the front of the vessel...
Wednesday, July 20, 2005
Backwards in Time.
Back in '79 '80 I worked for a company that had a branch in Washington state and once in a while I would have to go down to work there. I had the pleasure of working with a lady named Joanne Clark. She invited me to stay at her house and I was amazed at the studio she had full of yarn and other assorted goodies. She loved to knit and do cross stitch and she got me started on both after I had put them aside for a few years. I still have a Family Circle book from winter 1980 from which I made these two items. I don't have the sweater anymore, but I still have some of the yarn kicking around.
But I do still have the dress that I made. I can still remember sitting in Joanne's living room, knitting away. I had done it on circular needles so it was relatively quick, just row after row of straight knitting until I got to the cables. (A little aside, Joanne had a basset hound and it used to swallow stones from the dog run. When you'd pet its stomach you could feel the rocks inside. Needless to say her and her husband Rolly had some pretty expensive vet bills.)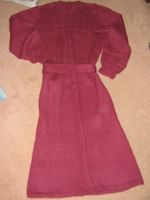 Here are a few other items that I've saved through the years, though I'm not sure why.
I think I made this one on a road trip to California in '84
.
This one...
I'm not sure what possessed me.
At a Chicks w/Sticks night a few months ago, one of the ladies had a bag of old patterns and some of us were laughing over the styles through the years. This was one of the patterns in the bag and it was one of the ones that elicited a pretty big laugh. Picture it with big hair, big bright earrings and stove pipe pants. Ewww.
Monday, July 18, 2005
Tuesday's Signs of the Week
More signs from Europe. I'm cheating because I haven't found a local sign to use. I've been looking, but it can get a little dangerous when I'm too preoccupied with finding an interesting street sign and I'm not watching the road.
This was taken in Salzburg. It certainly makes it easy to figure out what the business is even when you don't speak the language.
I suspect this one sells footwear.
I'm not too sure about this one though. Either they sell lederhosen and dirndles or it's a beer hall so come on inside for some polka time.
Miles the Birder
About a month ago, I noticed a commotion in the back yard. Crows were everywhere and the level of noise from the cawing was just crazy. I looked out to see why they were so noisy, and what do I find ... Miles playing 'catch and release' with what I thought at the time was a dying adult crow. #4 and I were yelling at the dog, trying to be heard above the din of the crows. The only thing that got him away from the bird was the sight of his dog leash. A walk generally wins out over most things. The next morning I half expected to see the dead bird in the back yard, but it wasn't there. When Miles went out for his morning piddle the crows started circling around and cawing again. As soon as he got up on the sundeck, he went nuts. His nose had picked up the sent and sure enough, there was the crow he'd attacked the night before. It had spent the night huddled behind our barbecue. It wasn't an adult, but a baby that must have fallen out of the nest. The chase was on. There was the baby hopping and fluttering around trying to get away from the crazed beagle. There was me screaming and trying to grab the tail of the crazy dog. And there were what seemed like a dozen or so crows, swooping down at me and the dog. It felt like a scene from
'The Birds'
. For almost two weeks, the crows would caw and squawk every time the dog went into the back yard, even though the baby was no longer anywhere to be found after that morning.
This afternoon, while #4 and I were making lunch, one of these little guys flew into our kitchen.
He fluttered around trying to find his way back out while Miles was running around yelping like he was part of a hunting pack. Unfortunately, the bird touched down on the floor and before I knew it, Miles had him. I grabbed the dog's tail, which caused him to yelp in a different tone, release the bird and turn his attention on me. #4 then grabbed Miles by his collar and pulled him out of the kitchen while I went to get the bird, but the poor thing was dead. One chomp by the crazed birder, and that was it.
#5 searched around for a shoe box and she and her Dad buried the poor little guy in the garden in our animal grave yard. The sparrow now joins 3 hamsters and 2 budgies that have gone before him through the years.
On a knitting note, I'm about 3/4's of the way throught the Shapely's front. Here's a picture of the back.
Thursday, July 14, 2005
News Flash....
I have it on good authority (the librarian) that none other than the Yarn Harlot will be at the Capilano Public Library in North Vancouver on August 6th. Mark your calendars and pack your knitting bags!

A Day Full of Nice Suprises
Yesterday I came home from work to find a few nice suprises. Before I'd left for work (actually, stolen out of the house like a thief in the night while the rest of the family still slept), I left a note to the kids listing chores for each of them to complete. Nothing too taxing, don't want to frighten them off, but one of the chores was to sweep the front steps and driveway. We have a beautiful silver birch tree at the front of our house and for 12 months of the year it's always shedding something. As I pulled into the driveway my heart was lightened to see it was free of leaves. When I got to the front door, my heart skipped when I saw this.
My much anticipated backtack parcel had arrived! Yippee!
And it kept getting better. The floors were vacuumed, the plants were watered, a load of towels was washed and flapping on the clothesline and the dishes had been washed. After thanking the kids for their efforts (gotta keep the workers happy), I grabbed a freshly washed kitchen knife and sliced open the parcel.
What a lovely bunch of goodies made by Allison at
Perknitious
A handy roll for my knitting supplies made with richly coloured fabric, a wallet for my sewing needles and this little cutie.
She's too nice to stick pins into. And of course the goodies tucked in the package. I love the tape measure and was thrilled to see the row counter hidden behind it. I've been meaning to pick up one of those for the longest time. I have no idea where my old one got to. A great set of kid's knitting needles so I can get the youngest hooked on the pastime as well as some lovely stitch markers. Thank you so much, Allison. The work you did is fantastic and so appreciated. And we all loved the yummy treats. Good luck to you on your move from sunny California to the Windy City.
It was a fun project, wasn't it? A big thanks also to
Nicole and Alison
who put the whole thing together.
Monday, July 11, 2005
Tuesday's Sign of the Day
Only in Italy would you find a school crossing sign where the children are in full sprint. We saw this sign while we were travelling in Europe a few years ago and had to take a picture.
Unlike the signs around home where the 'silhouette kids' are calmly strolling across the street, these little bambini are running so fast the ponytail is flying behind the 'silhouette girl'. There are two reasons we could think of...
Firstly, they are Italian, and therefore, they are late
Secondly, they are crossing a road that is driven on by Italians, and they're running for their lives.
Knitting content on the next post. Shapely back is finished and the front is in process. With the lousy weather we've been having, I think I should make a long sleeved version.
Sunday, July 10, 2005
Tagged for a Book Meme
I've been tagged by
Nurse Ratchett's Alter Ego
(isn't that a weird sentence)
for a book meme.
She was my backtack recipient, and I believe I'm still anonymous to her - not sure. Go check her blog out, she writes great posts.
Total books owned, ever: Hard to say. I've got 3 large book shelves downstairs, each of the kid's rooms has a bookshelf, there are boxes in the attic... I couldn't begin to count. But the frugal part of me is trying to make use of the library more often.
Last book I bought: The Kite Runner. It was on my book club's reading list and I couldn't get it out of the library so I relented and bought a used copy on ebay.
Five books that mean a lot to me:
1.
Kristin Lavransdatter
- Sigrid Undset
I first read this book when I was in my late teens. I enjoyed it, but from the perspective of a 19 year old, I didn't appreciate the depth of Kristin's joys and sorrows. When I re-read it some 20 + years later, I saw everything differently. It is a story that takes place in 14th century Scandinavia, but at its heart it could be about a woman from any century. It is a very detailed novel that can be difficult to fall into, especially at the beginning, but if you give it the time it is well worth it. There were a few parts in the story that made me cry, not something a novel has done for me before. Most especially was the time when Kristin's father and mother were remembering their youth, their love for each other and realizing that their time together was coming to a close. The writing of Ms. Undset is so rich and powerful.
2.
The Women's Room
- Marilyn French
Another book I read in my late teens early 20's. This book made me realize what I did and didn't want for my future. Not so sure I was totally successful, but I guess if I were to look at things on a scale, the 'did wants' would tip the scale in favour over the 'didn't wants'.
3.
The Life and Death of Ivan Ilyich
- Leo Tolstoy
I only just recently read this book. Like Kristin Lavransdatter, Life and Death is also a timeless story. It teaches us the reader, to make the most of the time we have and to live a life that has purpose and meaning, a life that is real. There are more important things is ones life than chasing possessions or positions of importance and what a tragedy to realize that upon ones dying, when it's too late to change.
4.
Neither Here nor There
- Bill Bryson
On a lighter note.... I love Bill Bryson's humour. I've read many of his books and always have a good laugh. We took this book along on our family trip to Europe a few years back. My son read it during the long train rides between cities and at the point in our travels that we had a car, he and I would take turns reading passages out loud to pass the time on the road. It was a great way to keep the youngest happy when she was getting to that "Are we there yet?" stage. It was a great source of laughter for us during that trip.
5.
Love You Forever
- Robert Munsch
This is a beautiful story told in a child's picture book. I think it's probably a staple at many baby showers now. I first read it to my son 17 years ago. Did I say a book had never made me cry before Kristin Lavransdatter? I was wrong. I definitely got teary eyed when I first read this one. It is a wonderful story that shows the unconditional love of a parent for their child and vice versa. I think I should dig it out and read it to #1 son again. Tell him to watch outside his dorm window for a crazy women with a ladder strapped to her car. Mind you, I'm sure I'll see him often enough with a bag full of dirty laundry strapped to his car.
There you go ... now I'm not going to tag anyone in particular, but feel free if you read this blog, to take the questions and answer them on your blogs.
Thursday, July 07, 2005
Slugs and Hot Chocolate in July
**Note to self** - Always beware of the promises made to your kids. There should always be a proviso. Such as '
sure we can go for a walk tomorrow afternoon,
so long as it's not pouring so hard, the neighbours are building arks

.
'
In a bid to direct my youngest away from wanting to rent a movie on Monday night, I promised her we would walk down to the local Tim Horton's after I got home from work on Tuesday. Well, when I got home on Tuesday it was pouring rain and she wasn't about to be put off. She had 2 umbrellas ready to go, she had her backpack stuffed with provisions, she had our rain coats ready to go. I tried to weasel out, but she would have none of it.
So off we went, with the beagle, on a 1.5 mile trek to get hot chocolate. Really, in July you'd think it would be an iced capp, but we've had some chilly weather for this time of the year. It was soggy but it was a nice chance to spend time together and chat; in between shouts of warning to watch out for the slugs that were the size of hot dogs! (Did I mention we've had a bit of rain lately?)
This is the daughter that seems to realize (more that her mother does at times) the importance of spending time together and she regularly pushes me to do just that. We certainly are blessed to live in the part of the world that we do, where simple pleasures are in abundance. In light of the tragedies of today, it's a good time to remind ourselves of our blessings and pray for those in London affected by the terrible bombings.
Monday, July 04, 2005
Sign of the Day
I haven't any knitting to share, I haven't a self portrait Tuesday pic to share, I haven't decided what to do for this month's knit the classic, but I did see this cute sign near the dock at the cove. Unfortunately, I was having some trouble with 'hello' tonight, so I've had to load it with flicker. You'll have to click on the pic in order to read the message.
Changes on the template are still a work in progress. Once again the comments are blown away to blanks. Oh well...
Sunday, July 03, 2005
Ch ch ch changes
Are there 101 more important things to be doing right now? Yes! Bear with me while I go about making changes to the template. A challange for someone who knows absolutely nothing about HTML.

Friday, July 01, 2005
90 Minutes = 10 Miles = 25 rows
My usual daily commute to and from work involves hopping in the car and driving approximately 10 miles, mostly along the Trans Canada Highway. The average door to door is 20 minutes. Yesterday it took 3 HOURS!
The normal routine - 5 minutes from work...hop on the freeway; 5 minutes from home...hop off. I started the first leg and realized the freeway wasn't an option so I figured I'd stop at Home Depot and return something then try the freeway again. But after listening to the traffic reports, I thought - add picking up groceries and try later. After picking up groceries, I realized - get gas! and try later. After having left the office at 4:15, I found myself, at 5:45 with a car full of groceries and gas, ready to give it a shot. I fully expected that the backlog would have lightened. But no. I finally walked through my front door at 8:45! Good thing I had the Shapely T to keep me company.
That and some sushi and Dad's Chocolate Chip Cookies.
One of the things I discovered beside the fact that there are A LOT of people that head over to the North Shore, is that when traffic is crawling at 5 mph and slower, I can knit while simultaineously stearing with my left knee. I managed to get about 25 rows done on the back of Shapely while I was chugging at a snail's pace. Another thing I discovered - when you turn the car off and coast in neutral, the brakes don't grab the same as they do when the engine is running. Yikes!
And the reason for the big jam... there's a new bridge being constructed across the Seymour River and there was a mishap with a crane. So instead of 2 possible routes to the east side of the river, there was only 1. It was just fortunate that the kids were out of school and my trip home from work didn't involve picking up anyone from anywhere.
Happy Canada Day to all you Canadians on Friday and Happy 4th of July to all of you Americans on Monday.