5 And A Beagle
"Life is what happens while you are busy making other plans." John Lennon
Wednesday, October 19, 2005
A Sock in the Scanner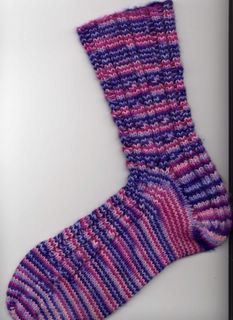 There still may not be a camera, but the good thing about socks is that they can be scanned. Here is the first finished sock in about 20 years. I'm not even sure if my first foray into sock-dom even counts because it was a couple of
these
from a Mary Maxim kit.
This one is a Rib and Cable sock from the pattern in the fall Interweave Knits made from the yarn I received from
Stacey
. Knitpicks merino in Hydrangea. Ohh so comfy and warm. #5 already slipped it on and then proceeded to slide around the floor. If you look close enough, I'm sure you can see dog hair already embedded into the fibre. I think the hardwood is overdue for a vacuuming and sliding around on it was like giving it a cleaning with a handknit merino 'swiffer'.
It's quite an easy pattern made just a little shorter than called for because #4, the recipient, doesn't like her socks too high. However, the sock fits me, #4 and #5 so once the mate had been made, we'll see whose drawer they end up in.
Unfortunately, my son isn't coming home this weekend as planned which means I still have no camera. I have to post this backtack parcel off, or it will be hard pressed to make it down under (oops, big clue) to my partner before the end of the month. So I'll have to try something creative on the scanner along with whatever pics I've already taken then send it on its way.
|