5 And A Beagle
"Life is what happens while you are busy making other plans." John Lennon
Sunday, August 07, 2005
Saturday with the Yarn Harlot
On Saturday afternoon, #5 and I spent a couple of hours being entertained by none other than the Yarn Harlot, aka Stephanie Pearl-McPhee. There were about 75
crazy
enthusiastic knitters, mostly women but a handful of brave men. Here is the requisite picture of her taking a picture of us taking a picture of her.
She was so entertaining and I enjoyed the afternoon. It's hard to explain to non-knitters what the appeal is though. I feel they look at you with a politely perplexed expression and rather than bluntly ask you why you spent an hour listening to someone talk ABOUT knitting, they just smile and politely change the subject.
Oh well, she'll be our little secret.
I had the pleasure of meeting Ivana from Coquitlam, whom I had previously corresponded with by e-mail.
And the not just crafty but also thrifty,
Nadia
.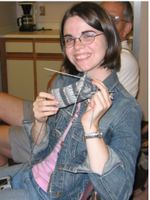 |